Have you ever felt that going to restaurant on Valentines day is waste of time and money? Most restaurants are over crowded and food is prepared in rush. Well if you feel same way then here is wonderful collection of eggless desserts made in slow cooker. Most of these recipes require none or very minimal preparation. You can put all the ingredients in crockpot, sit back and relax.
1.
Pina Colada Lava Cake
: Requires some minor preparation outside of slow cooker but it is worth the trouble.
Source:365DaysofCrockpot
2.
White Chocolate Cherry Dump Cake
: Very simple dump cake (dump all ingredients in slow cooker in layers) with only 5 ingredients and takes less than 5 minutes to prepare.
Source:TheMagicalSlowCooker
3.
Peach Cobbler
: Another simple recipe which required only very few ingredients and less than 5 minutes of prep time.
Source:JustaPinch
4.
Cherry Nut Cobbler
: Warm and comforting dessert with Pecans. This recipe is made so easy with ready-made muffin mix and canned cherry pie filling.
Source:MidWestLiving
5.
Triple chocolate Peanut Butter Pudding Cake
: Ingredient list seems little long for this pudding cake and process little bit involved, but it creates really rich cake. Worth the try.
Source:MidWestliving
6. C
herry Cola Chocolate Cake
: This Cherry cake looks so yummy with nice burgundy color and cherry sauce topped on the cake.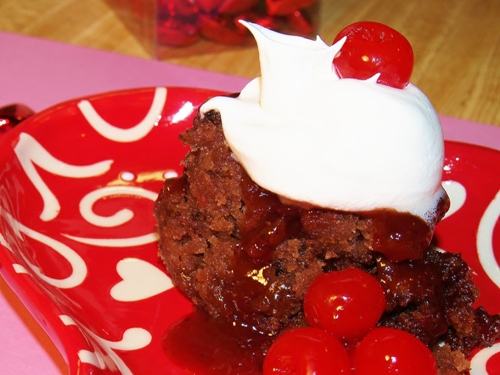 Source: KellisKitchen
7.
Caramel Poach Pear with Ice-Cream
: Very simple recipe drizzled with brown sugar sauce and served with ice-cream.
8.
Blueberry Lemon cake
: This is a very flexible and simple recipe. You can replace blueberry with strawberries to give it beautiful pink color.
If you like what you are reading, do follow us on Facebook, Twitter , Pinterest or Google+.